A global-scale scientific and technical workshop
to review and assess EBSAs in ABNJ
6-9 November 2022
Seymour Marine Center, Santa Cruz, California, USA
Overview
This scientific and technical workshop aims to review and assess ecologically or biologically significant marine areas (EBSAs) in areas beyond national jurisdiction. This is not a Convention on Biological Diversity (CBD) workshop; it is convened as part of GOBI's work under the International Climate Initiative.
The workshop will take place over four days (6-9 November 2022), adopting the formula successfully used at the CBD-convened regional EBSA workshops.
We are inviting experts from around the world to prepare draft case(s) for new EBSAs using the EBSA template (see instructions below). These will be considered at this workshop, discussed and refined as appropriate. Guidance on completing the EBSA template is provided below, and a short pre-workshop online session provided further support and advice. You can watch this session online at the link below.
The workshop will be supported by data experts who will have access to global datasets of relevant biological and environmental data, as well as relevant data and resources from GOBI's work over the past five years. Workshop participants are strongly encouraged to bring relevant data with them to aid discussions.
The main output of this meeting will be a report containing examples of draft EBSA descriptions produced by the workshop. Whilst this will have no official standing or formal CBD recognition, it may serve as a 'straw man' for any future CBD-led exercise. It is not intended that the draft EBSA descriptions provide comprehensive coverage of features in ABNJ, but every effort should be made to consider examples of different benthic and pelagic features. In particular, the workshop is not aiming to produce a 'shadow' set of high seas EBSAs. The workshop will also suggest a series of options, based on lessons learned, for how the EBSA portfolio coverage of ABNJ might be enhanced.
---
About EBSAs
EBSAs are ecologically or biologically significant marine areas, which play important roles in supporting the healthy functioning of oceans and the many services that it provides. They are described in terms of their ability to meet seven scientific criteria, via a formal process administered by the UN Convention on Biological Diversity. For more information:
CBD EBSA website (including interactive map of existing EBSAs and their descriptions)
---
Outline workshop programme
Note: US daylight saving ends at 02:00 am on Sunday 6 November, so clocks go back by one hour.
All times below are Santa Cruz local time (Pacific Standard Time; UTC -8)
Sunday 6 November 2022
13:00 – 17:00
Welcome and introductions
Introduction to scope and objectives of the workshop – link to other processes (post-2020 GBF, BBNJ, ISA REMPs) and potential to feed into CBD COP15
The EBSA process and ABNJ
Applying the EBSA criteria
Review and critique of existing EBSAs in ABNJ
Overview of data available to support the EBSA process, data gaps, proxies and analogues
Discussion / Q&A
Monday 7 November 2022
09:00 – 17:30
Presentation and discussion of draft EBSA templates (to highlight what each proposal is exemplifying as well as making a sound scientific case against the EBSA criteria)
Reflect on features/habitats of significance, gaps and deep-sea challenges
Tuesday 8 November 2022
09:00 – 17:00
Consolidation and refining of EBSA templates
Stock take, reflection and discussion
Workshop dinner
Wednesday 9 November 2022
09:00 – 16:00
Summary presentation of results and discussion of scientific and governance gaps
Threats to biodiversity in ABNJ: consideration for EBSA descriptions
Options for CBD (e.g. full ABNJ workshop; species specific thematic workshops for data-rich taxa; a technical report to BBNJ highlighting candidate ABMTs; etc.)
Future steps
---
Pre-workshop preparation
To help us prepare for the workshop we would appreciate an early indication of the areas you are considering drafting an EBSA template for. Please do this by entering some basic information on the Miro Board we have set up for this purpose – you do not need an account or login details to access the Board.
You will find instructions on the Board but it's straightforward: simply type some basic details onto a comment box placed on the map in roughly the relevant location. This will enable our mapping support team to see what ideas are taking shape and to offer any help you may need with sourcing data or drawing boundaries. The earlier you can post your ideas, the more time we have to prepare for discussions at the workshop itself, and more time we have to provide support where required. It will also enable us to identify any overlapping or complementary areas at an early stage. You can also email Sarah Deland directly for support with mapping and/or data: sarah.deland[at]duke.edu
In addition, you will need to draft a description of your area using the EBSA template (see below). Please submit your drafts to vikki.gunn[at]seascapeconsultants.co.uk (with cc to christopher.barrio[at]seascapeconsultants.co.uk) no later than 21 October 2022. We will compile all the submissions and then make them available to workshop participants the week before the workshop, so you can see what areas will be discussed.
A pre-workshop online briefing on the workshop aims, objectives and expectations was held on 20 September 2022 – you can watch the recording here, which will take you to GOBI's YouTube channel.
---
Guidance on drafting an EBSA template
Areas that may meet the criteria for ecologically or biologically significant marine areas are described using a template that ensures all the appropriate information is provided.
---
Workshop logistics and travel information
The workshop will be held at the Seymour Marine Discovery Center, located on western outskirts of Santa Cruz, California. The closest airports are Norman Y. Mineta San Jose International Airport (SJC; approx. 35 miles away) and San Francisco International Airport (SFO; approx. 65 miles away). More information about airport transfers will be posted in due course.
In terms of local transport in Santa Cruz, the number 20 bus runs between downtown Santa Cruz and the Seymour Marine Discovery Center.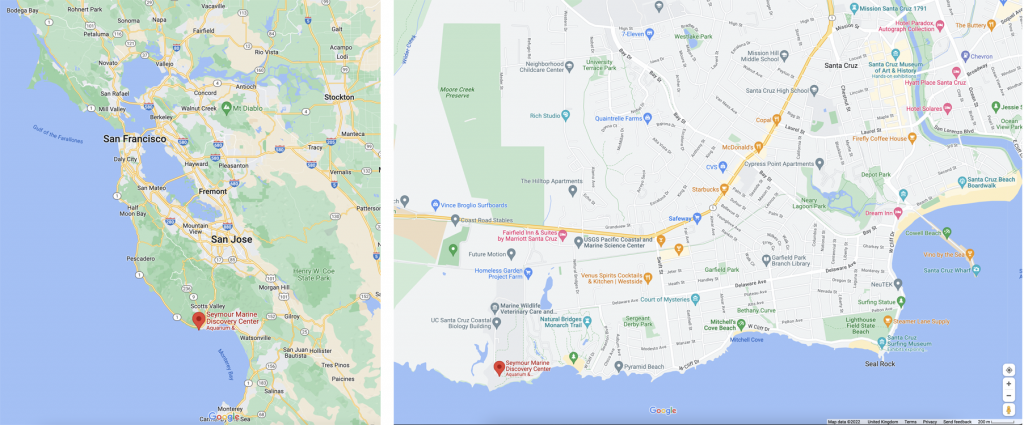 A range of accommodation options is available in Santa Cruz. The closest hotel to the workshop venue is the Fairfield Inn & Suites where most workshop particpants are staying. The hotel is a pleasant 25-minute walk from the Seymour Marine Discovery Center and there are plenty of restaurants and bars in the local Westside neighbourhood, close to the Fairfield hotel.
Lunches and coffee break refreshments will be provided during the workshop. Please let us know well in advance if you have any special dietary requirements.
---
Questions?
Please email vikki.gunn[at]seascapeconsultants.co.uk