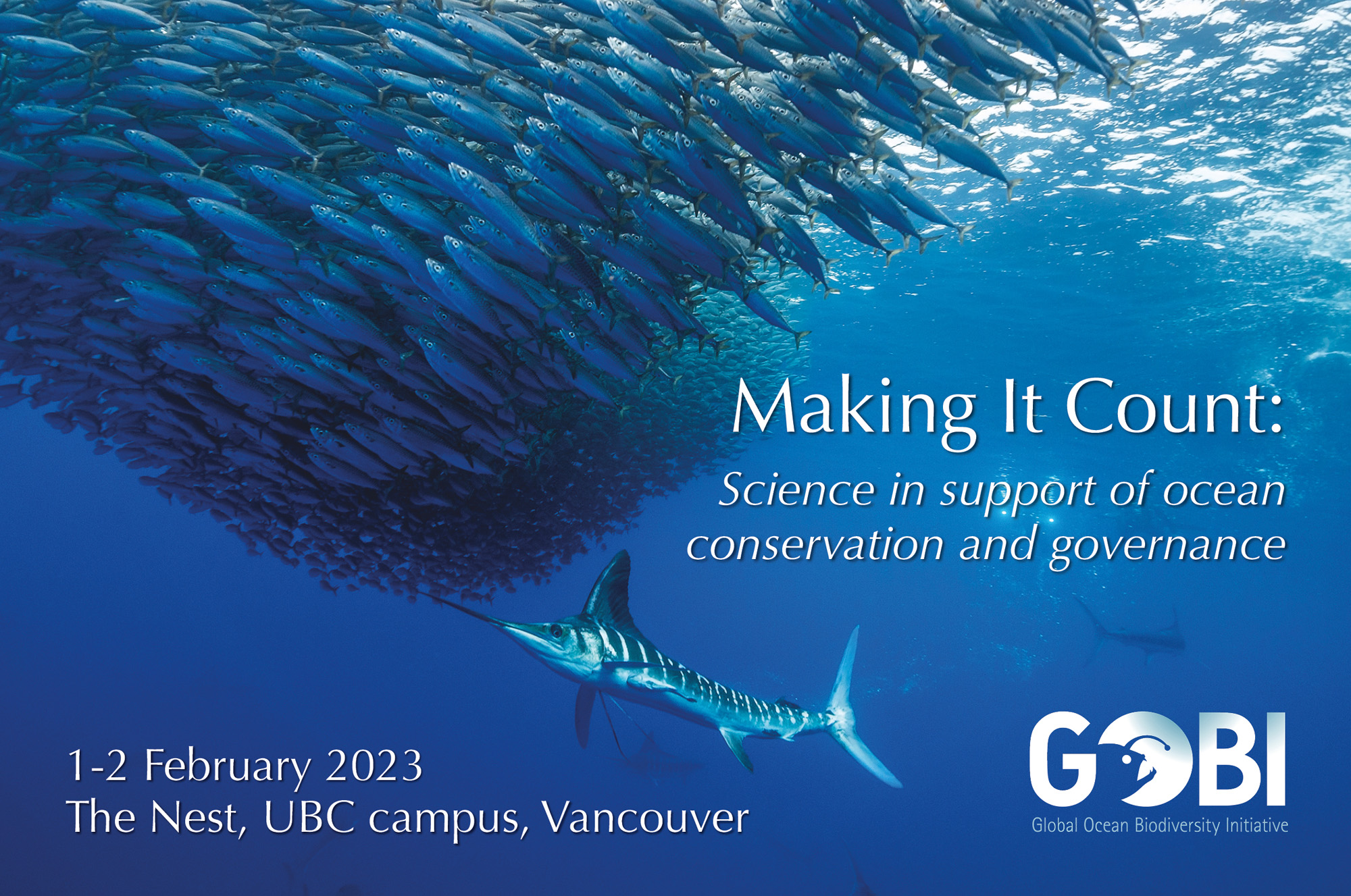 A 2-day symposium on creating actionable science
and facilitating the transition from science to policy
Registration for this in-person event is now closed
Please direct any queries to secretariat@gobi.org
Overview
Drawing on experiences learned through GOBI's work over the past decade or more, this event will explore ways to improve on existing mechanisms to bring science to policy, at a time when we face a sixth mass extinction and the policyscape is undergoing a step change.
Connectivity – between species, ecosystems, habitats and humans – and its implication for area-based management, both within and beyond national jurisdiction, is a key theme of this event.
We will examine how the marine science community can strengthen its relationships with decision-makers and competent authorities to ensure the best science is available at the right time to underpin decision-making and inform future policy priorities. We will also reflect on the opportunities, challenges and barriers for marine science in a changing world. How do we chart the path ahead for our ocean, and what does conservation and sustainable use of marine resources look like in 2030?
This is not your normal 'show and tell' event: we aim to maximise interactive dialogue, discussion and debate – so expect to be part of the conversation! We will explore the potential to use the outcomes of our discussions at this event as the basis for a commentary or opinion piece in a relevant publication.
Who will be in the room? As well as marine research scientists and students, we invite those working in policy development, decision-making, regulation and oversight to join us, as well as those working in marine agencies, blue industries and the NGO sector. It is our intention that this event is a forum for conversation, exchange of ideas and inspiration for new initiatives. Where can GOBI's achievements provide a springboard to build new partnership and collaborations to really make marine science count?
Details
Date: 1-2 February 2023
Venue: The Nest, 6133 University Blvd, University of British Columbia, Vancouver, V6T 1Z1, Canada
Registration is now closed – please email secretariat@gobi.org if you have any queries
Symposium programme
The final programme is now available here (PDF, 0.5MB). All registered participants have been sent an email confirming joining instructions and final logistical details. If you have registered but have not received these details please contact us (secretariat@gobi.org).
Summary of programme content
Day 1: Wednesday 1 February 2023 (09:00 – 18:30)
Venue: Performance Theatre, The Nest
A review of GOBI's journey over the past 14 years, and reflection on its achievements, lessons learned and the challenges/opportunities ahead, particularly in the context of the relationship between marine science and ocean policy.
Examining the science case for connectivity in the oceans: How has our understanding of ecosystem connectivity moved forward in the past c. 5 years? What are the most significant threats to connectivity, and how well do we understand the associated risks to marine ecosystems?
How are ocean connectivity issues addressed and managed through policy? Are current arrangements adequate, and – building on recent important area-based initiatives and given the targets agreed at CBD COP15 – where can new science help address any gaps?
How is the ocean 'policyscape' changing? Is science keeping up?
Working at the sharp end: sharing experiences and real stories of transferring (or attempting to!) science into policy. Successes, failures, frustrations and things we wished we'd known before we started – from both sides of the science/policy interface.
Informal networking session – a chance to chat with colleagues old and new, make new connections, and meet people from different sectors.
Day 2: Thursday 2 February 2023 (09:00 – 17:00)
Venue: Meeting Room 2301, The Nest
Creating "actionable science": what does that mean and what does it actually look like? Views and practical examples from different sectors, scales and settings.
Seeking solutions and overcoming hurdles: How can we smooth the transition from science to policy? Who can really drive change? Are scientists creating the right tools, and are policymakers asking the right questions? Are funding mechanisms enabling the right research to be done? Who will build the capacity needed to implement the Kunming-Montreal Global Biodiversity Framework?
Looking to the future and the role of science in the new, emerging policy frameworks and treaties, and how the science community could/should respond. What does conservation and sustainable use of marine resources look like in 2030? What new areas of research need to be prioritised to meet that vision, and what's in danger of falling through the gaps?
Making it count: recommendations, actions and next steps